Learning Lean / Lean Learning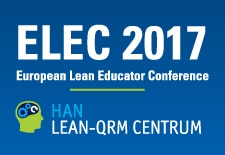 Van 7 t/m 10 november 2017 vindt voor de vierde keer de European Lean Educator Conference (ELEC 2017) plaats aan de HAN University of Applied Sciences in Nijmegen.
De conferentie staat dit jaar geheel in het teken van Learning Lean/Lean Learning, gebaseerd op de opvatting dat de focus van een Lean-onderwijzer te allen tijde moet liggen op het leerproces van zijn of haar klant (student, werknemer, team of organisatie).
Trotse sponsor
UPD gelooft in een leven lang blijven leren en is trotse sponsor van de ELEC 2017. Heeft u het indrukwekkende volledige programma al gezien?. Wij kijken uit naar de duokeynote van Vincent Wiegel (Lean Lector HAN) en Pieter van den Hoogenband (drievoudig Olympisch zwemkampioen) en naar de parallelsessie 'Blended Lean Learning?' door UPD Black Belt Maarten Smeitink!